I recently had the distinct pleasure of working with a truly amazing artist, Marta Dalloul. Together, we made a set of fabulous pins, magnets, and mirrors showcasing her artwork. What a stunning set it is!
After finishing these gorgeous goodies, I realized Marta was someone I really wanted to interview. I became aware of her work in 2013 and instantly felt connected to her creative style. Although many artists cross my path on a daily/weekly basis, these designs convey a sense of innocence and whimsy that really drew me into her world and made me want to know more about her story. With that in mind, I hope YOU also find this interview as interesting and inspiring and inspiring as I have!
Where are you from?
I'm from Madrid, Spain but I moved with my family, husband and two children, 20 years ago and I've lived in Florida ever since. I love it here!
Your artwork is so detailed and vibrant. How do you create your designs? Any favorite materials?
I love color and use it in whatever medium I work with. Painting is my favorite thing to do, I work with oils and watercolors and like the results I get with both, but watercolors have a special place in my heart, and it's what I use most. I also like detail in my work.
Can you tell us a little bit about your creative process?
It all starts with an idea. They come in different ways, sometimes I just think of something out of the blue, and sometimes I see or feel something in my surroundings that inspires me. I use to keep a small notebook where I draw quick sketches in pen when I get an idea and don't want to forget it, so that I can use it later. Then, when I decide what I want to create, normally I make a drawing, in pencil, just to give me an idea of how I want it to look. After that I draw it, on watercolor paper and prepare it to start painting, and so the fun begins…
Sometimes I have a clear idea of what I want to do, and sometimes it evolves as I create it. Besides using watercolors on a painting, I use watercolor pencils and color pencils. I also use ink and/or acrylic paint for finishing touches.
I like to portray life, innocence, tenderness, magical moments… I like to do uplifting art.
Is there a piece that you're most proud of?
I really am proud of everything I make, but if I have to choose one perhaps it would be "Almond Blossoms". An almond tree I painted using oil paints and that was inspired by the almond blossoms I used to see in Madrid at the beginning of the spring that were so beautiful.
What made you decide to open up an Etsy shop?
After being an Art teacher for more than 17 years, I wanted to put more attention on the business side of being an artist, and researched for different ways of selling my art. After creating a website I decided to open an Etsy shop in September 2013, and I love it. I like the direct connection with the costumer and being able to make people happy, even if it's just a smile, through my art.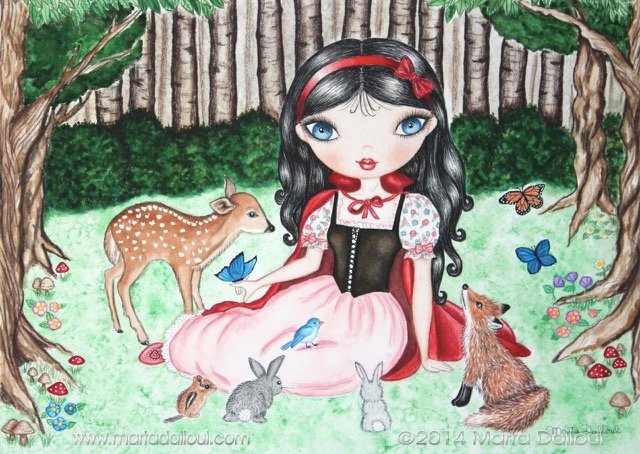 Where can we find out more about you and your gorgeous artwork?
My website is martadalloul.com though it's in the process of undergoing a complete renovation. My Etsy shop www.etsy.com/shop/MartaDalloul is my official shop at the moment, and my Facebook page https://www.facebook.com/MartaDalloulArt is constantly updated with new art, products and happenings in my artist life. I also have an Instagram martadalloul.
I'd like to thank you for this opportunity and I'm honored to be on your blog.
Thank YOU, Marta, for sharing your story!