Check out these amazing photos of Samyra and Mike's wedding flair button pins! Guests were invited to grab a lanyard, pick their buttons from the tin cups, and pin on as much flair as they could fit! I'm super impressed with the idea to display all 11 designs within a picture frame to make sure each guest could collect them all. Who wouldn't want to snatch each and every one of these?! Oh, and isn't it cool how the sunflower design matches the floral arrangement? Absolutely perfect!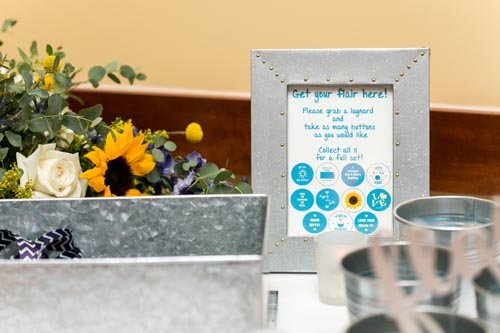 Samyra submitted her own fun mix of designs to Buttonhead, and we made them in a mix of 1" and 1.5" sizes. The artwork ranged from funny to sweet to personalized for individual members of the wedding party. I have a feeling this was a fun group of guests!
I particularly love the way the table setting cards turned out. It's handwritten with a personal touch. By the way, Samyra said the escorts liked their personalized buttons too, which were also displayed on a card.
It looks like everyone had a blast wearing their wedding flair! Where can I get one of these purple and white chevron lanyards? I want to wear one EVERY DAY. Reminder to self: Future Buttonhead employee uniform idea!
Special thanks to Samyra and Mike for letting me share these photos — and to ritaclarkphotography.com for taking such beautiful photos of the buttons!