These nautical wedding favors temporary tattoos have been our hottest summer seller!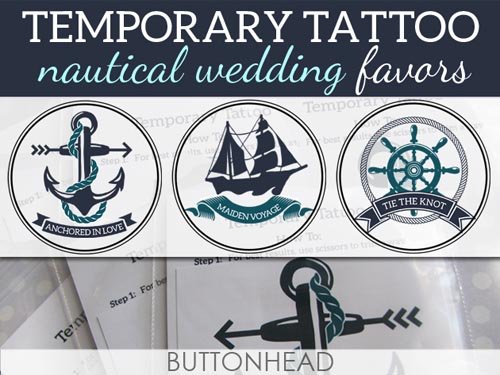 Nautical themed weddings are such a fresh idea. It's a flawless match for the season, and there are tons of incredibly cool décor options out there. Just try searching around on Pinterest. Seriously, it's endless!
On our end, it just so happens that temporary tattoos are the perfect pairing for a nautical theme! So much of tattoo history is rooted in navy and sailor culture. It's wonderful to see brides and grooms embracing this trend and allowing Buttonhead to help give their wedding day a bit of sailor-style ink!
These 3 designs were created (by me!) specifically for a romantic tie-in:
Anchored In Love:
First, we have 'Anchored In Love', which is my absolute favorite design. The symbolism of an anchor within any relationship is deeply meaningful. By adding the arrow through the anchor, we add the symbol of passion! It's a very powerful statement.
Maiden Voyage:
The maiden voyage of a ship has long been celebrated for it's significance in the beginning of a journey. I couldn't think of a better way to express the beginning of a marriage and a long life together!
Tie The Knot:
The phrase 'Tie The Knot' originated at sea. Since then, it's been adopted to symbolize the strength and unity of marriage. In fact, the phrase is now synonymous with marriage! In this design, we have it displayed across the ship's helm in rich color and detail.
As with all of our tattoo sets, we can make these nautical wedding favors with basic or "Dress It Up" packaging. Both options feature the tattoo packaged in a zip-sealed bag with a set of instructions for your guests to apply (and remove). If you'd like to add a finishing touch to the look of the finished package, we can also create a customized card that is affixed to the top of the bag. Either option can be easily incorporated into your décor – but I will say, the "Dress It Up" version gives it a LOT of extra zing!
These awesome tats are available in our web shop in sets of 12. Each set includes 4 of each design, so your guests will have a nice variety to choose from. If you're interested dressing it up, creating a custom design mix, or placing an order 150, please give us a shout. We'd be glad to create a favor that is perfect for YOU!