I've had a lot of requests to create a set of nautical wedding favors. Temporary tattoos are the perfect match for this theme! So much of tattoo history is rooted in navy and sailor culture. Today, contemporary brides and grooms are really embracing this theme for all of it's cultural and stylistic goodness. I've been seeing so many incredible seaside marriage ceremony photos on Pinterest!
So, I decided to create 3 new temporary tattoo designs specifically for nautical wedding favors. Each design is romantically tied into the motif. Here is a detailed description of each one: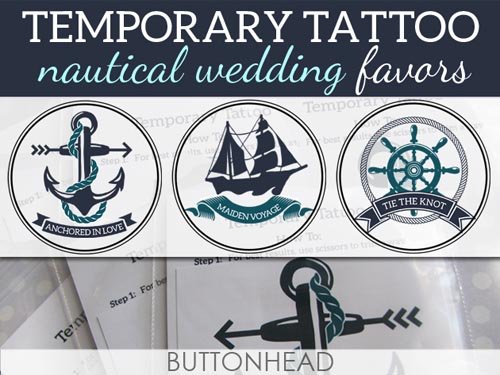 Anchored In Love:
Could this design be any more perfect for a nautical wedding theme? It combines the classic anchor with a classic symbol of passion, the arrow. The banner reads "Anchored In Love", as we hope each and every couple to be.
Maiden Voyage
For centuries, the maiden voyage of a ship has been a celebration and a christening. This ship design includes a crashing wave banner that reads "Maiden Voyage". It's such a wonderful parallel to a bride and groom beginning their new life together.
Tie The Knot
Did you know "Tie the Knot" is a phrase that originated at sea? The term has become synonymous with the phrase "getting married". In this tattoo design, both ideas are married to display across a ship helm in rich coloring and detail.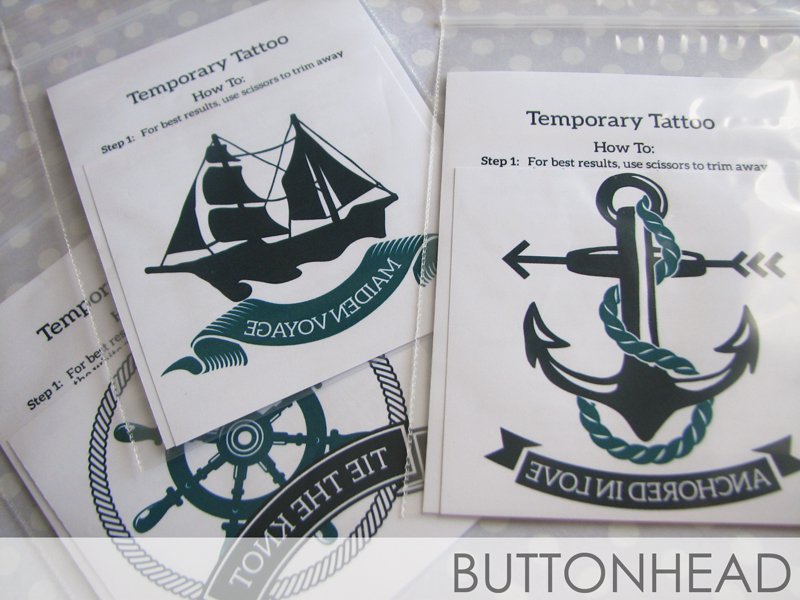 These nautical wedding favors are available with our basic or "Dress It Up" packaging, depending on needs and budget. Check 'em out and let me know what you think of the new designs! I'd love to hear from you.