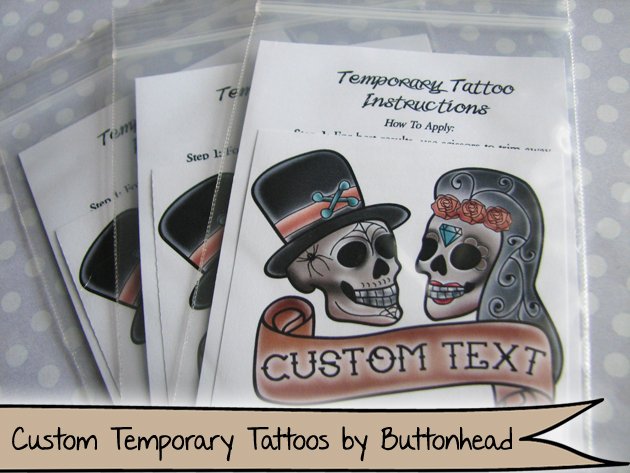 Looking for Day of the Dead wedding favors? Look no further! These temporary tattoos will be a stunning addition to your sugar skull spectacular wedding day. I can personalize them with any text you choose. These wedding favors are totally unique and will look amazing on your guests!
In recent years, I've become a big fan of Dia De Los Muertos. I think it's such an incredible wedding day and reception theme too. So, I drew this tattoo design hoping a happy couple would appreciate this artwork and concept as much as I do. I was very careful about line art drawing and coloring. I wanted these wedding favors to look creepy without being too scary. I think it turned out very well. I would love to see wedding photos of a crowd wearing these all day and night!
If you're not familiar with this Mexican holiday, it is observed on yearly on the day November 1st to give tribute to dead friends and family members who have been a part of their lives. On this day, reverence is paid to their dead by visiting grave sites, building alters, and offering prayer – but there is also an intriguing element of celebration throughout the day: giving gifts to the dead, colorful decoration, and even costuming. Sugar skulls (calaveras de azúcar) are one of the most recognizable visual elements, which can come in the form of paintings, sculptures, costumes, or even food. I have come to truly admire this artwork, as well as by this day itself. It is such an interesting mix of bereavement and joy, a celebration of both life and death. What a way to celebrate a wedding day!
Entering into a new marriage can be a mix of joy and some sadness too. There is excitement for a new life ahead as symbolized by the wedding day, but it's also natural to have a sense of mourning from the passing of an era. With so much meaning and potential for creativity, I think this concept will make a poignant theme for someone's wedding day.
If you're interested in purchasing these personalized sugar skull wedding favors, they are available now in my Etsy shop. Happy wedding day!