A Beatles 1st birthday party theme! Don't you wish your parents were this cool and creative?
Caroline contacted me late last year to say she was planning a 'Babymania' event theme and was looking for some Beatles birthday party favors. I was ALL IN immediately. I think this is such a creative party concept. It's fun for the kids… and the adults! How often does that happen?!
Our first task was to create a set of button pins. Caroline knew exactly what she needed design-wise, so these were easy to make. I love the idea of everyone wearing the buttons at the event, and also having them as a takeaway memento.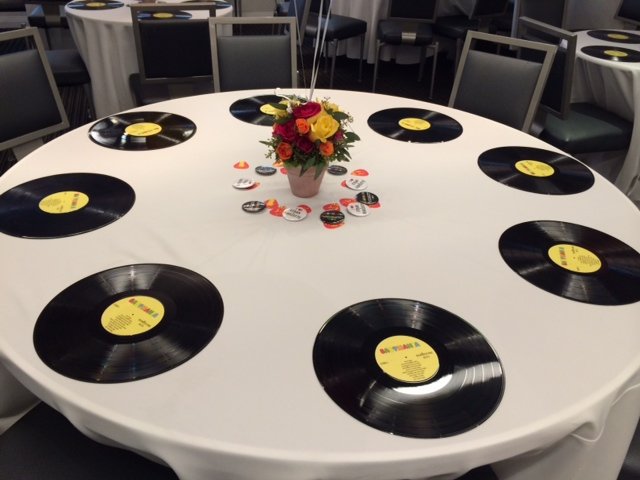 … But pins weren't the only Beatles birthday party favors at this event. The pièce de résistance are these incredible Babymania vinyl records. WOW! I worked with Caroline to create the design for the album's center label, which had the Babymania logo and a list of number one hits. Then, her sister, Gaby, took charge of the printing and assembling. The finished favor is strawberry fields forever!
Caroline and Gaby did an amazing job of putting together this Beatles birthday party theme from A to Z. I am absolutely thrilled to see how well everything turned out. Special thanks to these ladies for sharing their photos and for allowing me to post them here on the blog. Superstar sister team!